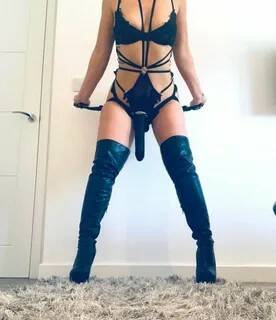 A strap-on is a sexual device that consists of a harness worn around the hips or waist, which has a dildo or vibrator attached to it. It is primarily designed for individuals who want to engage in penetrative play, regardless of their gender or sexual orientation. Here is an ultimate guide to strap-ons:
Types of Strap-Ons:
Standard Strap-On: This is the most common and versatile type of strap-on. It consists of a harness that is worn around the hips or waist, with a detachable dildo that can be inserted into the harness. Standard strap-ons are available in various sizes, shapes, and materials to suit individual preferences.
Vibrating Strap-On: A vibrating strap-on includes a built-in vibrator or a slot to insert a bullet vibrator into the harness or the dildo itself. The vibrations provide additional stimulation for both the wearer and the receiver.
Double-Ended Strap-On: Also known as a "double dildo" or "strapless strap-on," this type of strap-on is designed for simultaneous pleasure. It has a dildo at each end, allowing both partners to experience penetration and stimulation simultaneously.
Hollow Strap-On: Hollow strap-ons are designed for individuals with erectile dysfunction or those seeking a penis extension. They have a hollow dildo that the wearer's penis can fit inside, providing the appearance and feel of a larger or firmer erection.
Feeldoe Strap-On: The Feeldoe is a specific brand of strapless strap-on. It features a bulb-shaped end that the wearer inserts into their vagina, providing internal stimulation, while the other end protrudes outward for penetration.
Harnessless Strap-On: Harnessless strap-ons, also known as "strapless strap-ons," are designed to be held in place by the wearer's pelvic muscles. These strap-ons eliminate the need for a harness and offer a more intimate and hands-free experience.
Hollow-Core Strap-On: Similar to the hollow strap-on, the hollow-core strap-on features a hollow shaft that allows the wearer to insert their own penis, while still providing the ability to penetrate a partner.
Harness Styles:
Two-Strap Harness: This is the most traditional and widely used harness style. It consists of two straps that go around the wearer's waist and another strap that goes between the legs, creating a secure and adjustable fit. The two straps around the waist provide stability and support for the attached dildo.
Jockstrap Harness: Similar to a jockstrap, this style of harness has waistbands that go around the hips, leaving the buttocks exposed. It provides a more minimalistic and less restrictive design, allowing for greater freedom of movement.
Corset-Style Harness: This harness style resembles a corset, featuring lacing or adjustable straps that wrap around the waist and lower back. It offers a more decorative and stylish look, while also providing a customizable fit.
Panty-Style Harness: Panty-style harnesses are designed to look like regular underwear or lingerie. They often have a built-in pocket or panel where the dildo can be inserted, providing a discreet and seamless appearance.
Strapless Strap-On: Also known as a harnessless strap-on, this style eliminates the need for a traditional harness. Instead, it features a bulb-shaped end that the wearer inserts into their vagina, relying on their pelvic muscles to hold it in place. The other end protrudes outward for penetration.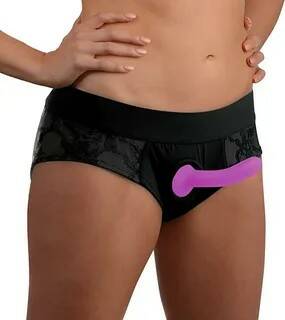 Material and Size:
Material:

Silicone: Silicone is a popular material for strap-ons due to its durability, flexibility, and body-safe properties. It is non-porous, hypoallergenic, and easy to clean.
Rubber/Latex: Rubber or latex strap-ons can provide a softer and more realistic feel. However, be mindful of any potential latex allergies and ensure proper cleaning and maintenance.
Leather: Leather harnesses offer a more rugged and BDSM-inspired aesthetic. They can be adjustable and provide a secure fit, but they require specific care to maintain their condition.
Nylon/Fabric: Nylon or fabric harnesses are often lightweight, comfortable, and easy to clean. They can be more adjustable and suitable for different body types.

Size:

Harness Size: Ensure that the harness size corresponds to your waist or hip measurements. Most harnesses are adjustable and have multiple sizing options to accommodate different body shapes.
Dildo Size: Consider the size and girth of the dildo you prefer. It's important to choose a size that is comfortable for both the wearer and the receiver. Start with smaller sizes if you're a beginner or gradually work your way up to larger sizes as desired.
Compatibility: Check the compatibility between the harness and the dildo you intend to use. Many strap-ons have interchangeable O-ring systems that can accommodate various sizes and types of dildos.
Lubrication:
Lubrication is an essential aspect of using strap-ons to ensure comfort, ease of penetration, and reduced friction. Here are some key points to consider in the ultimate guide to strap-on lubrication:
Water-Based Lubricants: Water-based lubricants are the most common and versatile choice for strap-on play. They are compatible with all types of materials, including silicone, rubber, and latex. Water-based lubes are easy to clean, non-staining, and suitable for both vaginal and anal use. They may require reapplication during extended play.
Silicone-Based Lubricants: Silicone-based lubricants offer a longer-lasting and silkier texture compared to water-based lubes. They are also waterproof, making them suitable for shower or bath play. However, be cautious when using silicone-based lubes with silicone-based toys, as they can potentially degrade the material over time. Conduct a spot test on a small area of the toy if you're unsure about compatibility.
Hybrid Lubricants: Hybrid lubricants combine the best of both water-based and silicone-based formulas. They provide the longevity and smoothness of silicone-based lubes, while still being compatible with most toy materials. Check the product label for confirmation of compatibility with your strap-on and use as directed.
Oil-Based Lubricants: Oil-based lubricants, such as coconut oil or mineral oil, can offer a long-lasting and slick sensation. However, they are not recommended for use with latex condoms or toys, as they can cause degradation. If you're using a non-latex strap-on and prefer oil-based lubes, conduct a spot test on a small area to ensure compatibility.
Application: Apply a generous amount of lubricant to both the dildo and the receiver's body for optimal glide and comfort. Reapply as needed during play to maintain a smooth and enjoyable experience.
Communication and Consent:
Open and Honest Communication: Prioritize open and honest communication with your partner(s) about your desires, boundaries, and expectations regarding strap-on play. Discuss your interests, comfort levels, and any concerns or questions you may have. This communication should be ongoing and allow for adjustments and check-ins as needed.
Consent: Obtain clear and enthusiastic consent from all parties involved before engaging in strap-on play. Consent should be freely given, informed, and can be withdrawn at any time. Ensure that everyone involved is on the same page and comfortable with the activities taking place.
Boundaries and Limits: Discuss and establish boundaries and limits before engaging in strap-on play. This includes discussing preferred activities, positions, intensity levels, and any specific requests or limits that each person may have. Respect and honor these boundaries throughout the experience.
Safe Words and Signals: Establish a safe word or signal that can be used by any participant to communicate discomfort, the need to pause or stop the activity. This helps ensure that everyone feels safe, heard, and in control during the experience.
Non-Verbal Communication: Pay attention to non-verbal cues and body language during strap-on play. Check in with your partner(s) regularly to ensure their comfort and enjoyment. Encourage open communication and create a safe space for them to express their desires or concerns.
Aftercare: After the strap-on play session, engage in aftercare practices to ensure emotional well-being and physical comfort. This may include cuddling, reassurance, hydration, or any other activities that promote connection and support.
Cleaning and Maintenance:
Material-Specific Cleaning: Different strap-on materials require specific cleaning methods. Follow the manufacturer's instructions for cleaning and maintenance, as they may provide specific guidelines for the particular material of your strap-on.
Non-Porous Materials: Many strap-ons are made of non-porous materials such as silicone, stainless steel, or glass, which are easier to clean and less likely to harbor bacteria. To clean, use mild soap and warm water or an antibacterial toy cleaner. Thoroughly rinse and dry the strap-on before storage.
Porous Materials: If your strap-on is made of porous materials like rubber or latex, be extra cautious with cleaning. These materials can absorb bacteria, so it's recommended to use a condom on the dildo portion to provide a barrier and make cleaning easier. Clean with mild soap and warm water, then pat dry.
O-Rings and Straps: Pay attention to the O-rings and straps of the harness. Clean these components thoroughly with soap and water, ensuring all areas are properly washed and rinsed. If the harness is machine washable, follow the manufacturer's instructions for cleaning.
Cleaning After Use: Clean your strap-on immediately after each use to prevent the buildup of bodily fluids or lubricants. This helps maintain its cleanliness and hygiene.
Storage: Store your strap-on in a clean, dry, and discreet place to protect it from dust and damage. If possible, keep the strap-on and its components separate to prevent any potential degradation or interactions between materials.