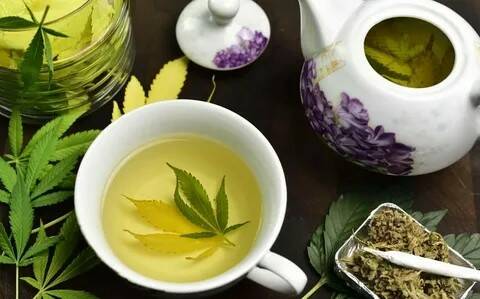 Cannabis-infused bubble tea, also known as "weed tea," is a popular beverage that combines the flavors of traditional bubble tea with the effects of cannabis. Here's an ultimate guide to making cannabis bubble tea:
Ingredients:
To make cannabis bubble tea, you will need the following ingredients:
Cannabis-infused milk or cream: This can be homemade or purchased from a licensed dispensary. The potency and dosage will depend on your preference and tolerance.
Bubble tea base: Choose a flavored syrup, powder mix, or tea leaves as the base for your bubble tea. Popular options include black tea, green tea, fruit flavors, or matcha.
Tapioca pearls: These are essential for creating the signature texture of bubble tea. You can find them at Asian grocery stores or order them online.
Sweetener: Sugar, honey, or other sweeteners to taste. Adjust the amount based on your preference for sweetness.
Flavorings (optional): You can enhance the taste of your bubble tea by adding fruit syrups, extracts, or other flavorings. Common choices include strawberry, mango, lychee, or almond.
Ice cubes: To cool down the tea and create a refreshing drink.
These ingredients will form the base of your cannabis-infused bubble tea. Feel free to experiment with different flavors and combinations to find your favorite variation. Remember to adjust the potency of the cannabis-infused milk or cream based on your desired dosage and tolerance.
Instructions:
Here's a step-by-step guide to making cannabis bubble tea:
Prepare the tapioca pearls: Cook the tapioca pearls according to the instructions on the package. This usually involves boiling them in water for a specific amount of time and then letting them sit in hot water for a few minutes. Rinse them with cold water and set them aside.
Prepare the cannabis-infused milk or cream: If you're making your own cannabis-infused milk or cream, follow a recipe or method for infusing cannabis into dairy. Alternatively, use pre-made cannabis-infused dairy products. Measure the desired amount for your bubble tea.
Brew the tea: If using tea leaves, steep them in hot water according to the package instructions. If using a syrup or powder mix, follow the instructions on the packaging to prepare the base. Let the tea cool down before proceeding.
Mix the ingredients: In a shaker or large cup, combine the cannabis-infused milk or cream, brewed tea, sweetener, and any additional flavorings. Adjust the sweetness and flavorings according to your taste preferences.
Add ice and tapioca pearls: Fill a glass with ice cubes and add the cooked tapioca pearls.
Pour the mixed bubble tea over the ice and pearls. Stir gently to combine all the ingredients.
Serve and enjoy: Use a wide straw to sip and chew on the tapioca pearls as you enjoy your cannabis-infused bubble tea.
Remember to label any cannabis-infused ingredients clearly and store them safely out of reach of children and pets. Start with a low dosage of cannabis-infused milk or cream, especially if you're new to edibles or have a low tolerance. Enjoy your cannabis bubble tea responsibly and be mindful of the effects.
Important Tips:
Here Cannabis Bubble Tea ultimate guide to help you make the best tea:
Choose the right strain: If you're infusing cannabis into your milk or cream, consider selecting a strain that aligns with the flavor profile you desire. Different strains can have varying aromas and flavors, so choose one that complements your chosen bubble tea base.
Adjust the potency: The potency of your cannabis-infused milk or cream will determine the dosage of cannabis in your bubble tea. Start with a lower dosage if you're new to edibles or have a low tolerance. You can always adjust it in future batches based on your experience.
Experiment with flavors: Bubble tea is known for its wide range of flavors. Don't be afraid to mix and match different syrups, powders, or tea leaves to create unique combinations. Consider adding fruit purees or extracts to enhance the taste.
Control sweetness: Adjust the amount of sweetener to your liking. Some people prefer their bubble tea to be very sweet, while others prefer a more subtle sweetness. Taste as you go and add sweetener gradually until you achieve your desired level of sweetness.
Cool the tea before adding ice: Adding ice directly to hot tea can dilute the flavors and make the drink watery. Allow the brewed tea to cool down before pouring it over the ice and tapioca pearls.
Shake or stir well: To ensure that all the ingredients are evenly mixed, give your bubble tea a good shake or stir. This will help distribute the flavors and make the cannabis-infused milk or cream blend seamlessly with the rest of the ingredients.
Serve immediately: Bubble tea is best enjoyed fresh. Serve your cannabis-infused bubble tea as soon as it's prepared to enjoy the optimal taste and texture of the tapioca pearls.
Remember to consume cannabis-infused products responsibly and be aware of the effects and potential onset time. Start with a small portion and wait for the desired effects before consuming more. Enjoy your cannabis bubble tea in a safe and comfortable environment.
Advantages and disadvantages
Advantages of cannabis bubble tea:
Cannabis-infused option: Cannabis bubble tea provides a unique way to consume cannabis, offering a different experience than traditional methods such as smoking or vaping.
Customizable flavors: Bubble tea comes in a wide variety of flavors, allowing you to customize your cannabis-infused beverage to suit your preferences. You can experiment with different tea bases, syrups, and toppings to create a flavor profile that appeals to you.
Long-lasting effects: When consumed orally, cannabis edibles like bubble tea tend to have a longer-lasting effect compared to smoking or vaping. This can be beneficial for individuals seeking prolonged relief or a more sustained cannabis experience.
Discreet consumption: Bubble tea can be consumed discreetly, making it a convenient option for those who prefer a more inconspicuous way to enjoy cannabis. It can be consumed in public settings without drawing too much attention.
Disadvantages of cannabis bubble tea:
Onset time: Edibles, including cannabis-infused bubble tea, typically have a longer onset time compared to smoking or vaping. It can take anywhere from 30 minutes to a few hours for the effects to be felt. This delayed onset can make it challenging to gauge the appropriate dosage and may require patience.
Dosage control: Achieving consistent dosing in homemade cannabis-infused bubble tea can be challenging. It's crucial to accurately measure and control the amount of cannabis-infused milk or cream used to ensure a predictable and safe experience. Beginners or individuals with low tolerance should start with a lower dosage to avoid potential overconsumption.
Varied potency: The potency of cannabis-infused bubble tea can vary depending on the dosage and the strain of cannabis used. This can make it difficult to determine the exact effects and intensity of each serving, particularly when homemade. It's important to exercise caution and understand your own tolerance levels.
Limited availability: Cannabis-infused bubble tea may not be readily available in all locations due to legal restrictions. Depending on your jurisdiction, you may need to prepare it at home or seek out specialized cannabis-friendly establishments.
It's essential to consume cannabis responsibly, be aware of your local laws and regulations, and understand the potential effects and risks associated with edibles. As with any cannabis product, start with a low dosage and gradually increase as needed, while allowing ample time for the effects to be felt before consuming more.